With the rapid development of science and technology, people's communication has undergone tremendous changes. From writing letters, telegrams, telephone calls, emails, to video phones and video conferences, the effect of communication is getting faster and faster. In recent years, video conferencing has developed vigorously, impacting people's ideology and unknowingly changing people's working environment, and new communication modes may also be achieved in the future.
1. Video conferencing drives the popularization of mobile TV stands
Nowadays, the development of video conferencing technology makes its cost lower and its application scenarios more abundant. In addition to large enterprise groups, small and medium-sized enterprises and even individual users can easily use video conferencing to achieve business communication.
Video conferencing continues the advantages of the rapid transmission of information by telephone communication technology, and a virtual meeting room serves for multiple parties across the space to put forward opinions and exchange discussions in real time; in addition, the shortcomings of telephone communication are optimized so that both parties and even multiple parties can see each other in the video conference. Compared with boring voice and boring text, the video is more vivid, interesting, impressive, and effectively improves the ability to receive information.
It is precisely because of the ability of video conferencing to simulate a conference room, which greatly simplifies meetings of many natures such as business negotiations, company personnel exchanges, and company leadership decision-making. Only one terminal is needed, even if you are at the two poles of the earth, you can participate in the meeting at any time; and since the development of video conferencing, it has contributed to varying degrees in many fields such as telemedicine, online education, remote monitoring, and e-government.
Of course, if you want to develop more efficient and intelligent video conferences, mobile TV wall mount are definitely indispensable. This is a new video conference tool that has just been launched in recent years. It has also been strongly praised by many companies in the industry. Today, I would like to recommend a few officeworks TV stand with extremely high cost performance.
2. iworkhub mobile TV stand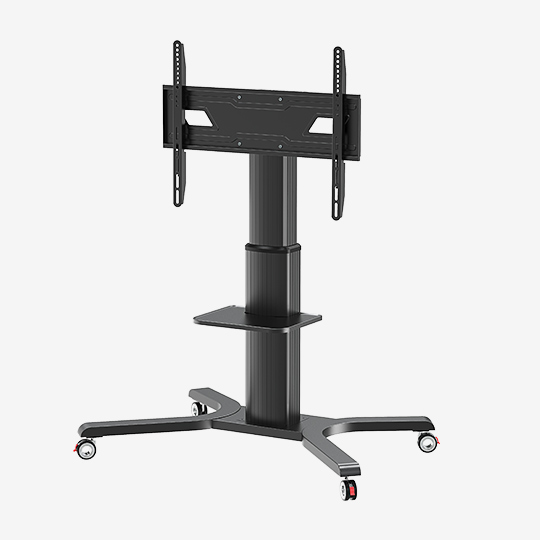 IWH3121 55-75 inch electric mobile TV trolley is the new favorite of small video conference office. It is ergonomically designed and can be raised and lowered freely. It has the characteristics of electronic height adjustment. The downward height can reach 1000mm and the upward height can reach 1500mm. It can also be rotated at different angles, suitable for the 55-inch to 75 inch rolling tv stand, perfectly coping with different scenarios. In this way, you don't have to install multiple TV sets in the company, just push and go with one, and use wherever you want.